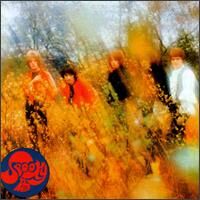 I came across this track on the Mod Chicago related site, Our Way of Thinking.

I think that this incarnation of Mod Chicago will be the 4th one that I have attended, and every one has been a highlight of my year.

The Leslie cabinet shimmering at the beginning over the tomtom taps is tops, along with the freakbeat searing guitar lead going into the vocal at the beginning. Ace.

"Crazy dreams and mindblowing schemes," I am a sucker for songs that have a build like this. The harpsichord interlude with the choral vocals is not bad either.

Kind of makes my ears think of a Fleur de Lys type sound with a healthy helping of Rupert's People Hammond thrown in for good measure.

Sunshine Help Me was their debut 45 and this track appeared on their 1968 LP, It's All About (Island ILPS 9080). It was also released as Tobacco Road here in the USofA due to the fact that the LP contained this song and it was a live staple for them.

It seems that they drifted off into prog territory with their 2 ensuing LPs, so I am not sure that I am interested in learning more about that era of their career.

Doing some quick research says that ST shared a producer with Steve Winwood's Traffic, Jimmy Miller, so some listeners detect some audio similarity between the bands.

I can't say that I can recall hearing any other Spooky Tooth tracks. They have reunited here is their site.