Here is an incredible series that came across the virtual transom recently. Older readers may recognize the above image as being a scan of a cassette tape cover...

In fact this series (heimatliche klaenge) ran to six (!) volumes back in the late 80s when the series appeared. Thanks to the communication channel of the internet, now most of this cassette series is available for MP3 download.

Many of these songs were familar to me from comps (that were probably somewhat influenced by HK) such as Trans World Punk, Prae Kruat, Hide & Seek, et al.

I can't hear Chicago by the Phantom Brothers enough, though. They rock. Read about them in the latest Ugly Things.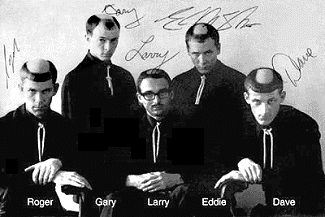 Of course the monks are also in the house on v. 1 playing their uber beat opii Cuckoo and I Can't Get Over You.

Many other bands explore high energy rythm and beat. The Boots, and The Countdowns being noteable on side a of this "cassette release." The Countdowns do a song called Sex Maniac, and hearing their pronunciation of Sex maniac is worth a listen.

A great intro to Deutsche Beat, or a great continuing journey. Check the tracklist and leave a comment.

Download here.