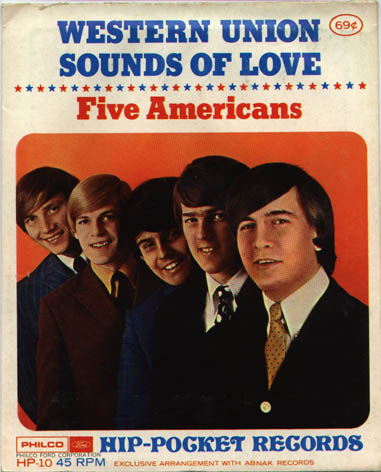 I received an interesting package in the post the other night. In the package there was roughly 20 colored envelopes that enclosed many choice sounds from the 67-68 time frame Bobby & James Purify, The Seeds, The Syndicate of Sound, etc.

The envelopes contained Hip-Pocket Records that were a product from Philco-Ford, that had a place in the market from 1967-68. Above is an image of the Hip-Pocket packaging that I borrowed from WFMU.

Here is a discography for the Hip-Pocket catalog:


The majority of my Hip-pockets are unopened, but there are a couple that have the seals broken. I plan to give these a spin on the 1200s tonight.
The discs themselves look like mini records, but are made of a flexible, bendable material, not unlike some of the sound sheets that would appear in magazines in the 60s or 70s. They spin at 45 RPM, but they are so small in diameter that it requires the use of a non returning tone arm to play them. Above is a picture of the mini turntable that was available to play these little records.
Apparently, these records were only on offer at your local Ford Dealer or a Woolworth's outlet. The suggested retail price was $.69.
Here is the marketing speak that appears on many of the envelopes:
Buy the hits you missed
25 to 50 hip pocket records can be carried in pocket or purse
Hip pocket records can be mailed with greeting cards as a gift
They will outlast a regular 45
Drop them or sit on them...they are almost indestructible
Take them to parties or to the beach or picnic...they are the most portable form of music
Don't let the small size fool you...the sound is amazingly big
Start your collection of hip pocket records today.
I wonder if FOMOCO ever offered the player as a dealer installed option. My 66 Mustang with an under dash record playing unit would be way cool.